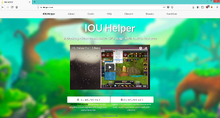 Hey I'm Level! I'm a community helper in IOURPG, helping with running the Kongregate and official Forums, and managing questions and concerns from the community to the developers. This is currently done by taking biweekly questions/concerns from players and getting Ray to answer them for all to see. You can check out all of the past Q & A sessions on the IOURPG Forum here or by going to #answers-from-ray on the Discord server.
If you need any help, feel free to message me. My Discord username is Level#0923. Here is a link to my IOURPG Forum profile and my Kongregate profile.
I also make some (hopefully) useful guides and tools for players to use. These can be found on my IOU Helper website. Here's a link to my Github profile to see what I've been up to recently!
Community content is available under
CC-BY-SA
unless otherwise noted.