Jurassic World: Dominion Dominates Fandom Wikis - The Loop
Play Sound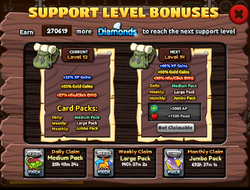 The game keeps track of how many Diamonds you have gained as a score. When this score reaches certain checkpoints, your Support Level will increase, earning more "Support Level Bonus". This bonus stacks multiplicatively with the Lineage Level bonus.
Diamonds earned from bug refunds do not count towards your Support Level. Due to Community Competitions using the same system to reward players, many of these competition rewards in the past did not count towards the Support Level. Ray verified on the 18th of April 2018 this would no longer be the case and the following competitions will count.
On the table below you can see what you can earn for each Support Level you reach.
The Experience and Gold Boosts stack additively with most other sources (Ascension Boost upgrades, Account upgrades, Altar bonuses, Event point bonuses, Guild upgrades, and, additionally for gold, Gold Rate (the upgrade purchasable with gold) and Inferno Bonus), but multiplicatively with the Party Boost ascension upgrade.
At a support level of 7 or above, a player's collected stone will no longer be upgrade-only when leaving a guild.
Support Level Bonuses
[
]
Boosts
One time reward
Card Packs
Level
Diamonds Required
Experience
Gold
Idle / Click Damage
Pet Food
Activity Points
Daily
Weekly
Monthly
1
250
4%
4%
2%
5
10
Tiny
None
None
2
1,000
8%
8%
4%
10
20
Tiny
None
None
3
3,000
12%
12%
6%
25
50
Tiny
None
Tiny
4
8,000
16%
16%
8%
50
100
Tiny
Tiny
Tiny
5
14,000
20%
20%
10%
100
200
Small
Tiny
Tiny
6
27,000
24%
24%
12%
175
350
Small
Tiny
Small
7
40,000
28%
28%
14%
250
500
Small
Tiny
Small
8
60,000
32%
32%
16%
375
750
Small
Small
Small
9
90,000
36%
36%
18%
500
1000
Small
Small
Medium
10
140,000
40%
40%
20%
625
1250
Medium
Small
Medium
11
200,000
45%
45%
22.5%
750
1500
Medium
Medium
Large
12
300,000
50%
50%
25%
1000
2000
Medium
Medium
Large
13
600,000
55%
55%
27.5%
1250
2500
Medium
Large
Jumbo
14
1,000,000
60%
60%
30%
1500
3000
Medium
Large
Jumbo
15
2,000,000
65%
65%
32.5%
1750
3500
Large
Jumbo
Gigantic
16
3,500,000
70%
70%
35%
2000
4000
Large
Jumbo
Gigantic
17
6,000,000
75%
75%
37.5%
2250
4500
Large
Jumbo
Inferno
18
9,000,000
80%
80%
40%
2500
5000
Large
Gigantic
Inferno
19
14,000,000
85%
85%
42.5%
3750
7500
Large
Gigantic
Inferno
20
20,000,000
90%
90%
45%
5000
10000
Jumbo
Gigantic
Inferno