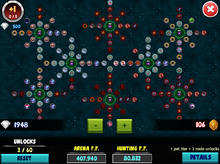 The Pet Upgrade Map is used to upgrade Pets. It consists of a web of nodes that can be unlocked in order to progress to adjacent nodes and to buy upgrades in the unlocked node. Nodes are unlocked using Pet Points earned in the Pet Arena and provide bonuses to Pets. The Pet Upgrade Map is unlocked along with the Pet Arena at level 50. It replaced the Pet Shop in v0.83.
This article or section is incomplete and requires further information.
Reason: More detailed information, especially for non-arena nodes


You can

edit

this page to improve it.
Nodes
There are 164 nodes, of which 6 are for Pet Arena only. Three node unlocks are given per tier of each of the player's pets. You also have the option to buy up to five bonus node unlocks with diamonds. Nodes can be unlocked starting from the four nodes at the center of the map, which are not connected to a Central Node. Any node adjacent to an unlocked node can be unlocked, and nodes adjacent to a Central Node all become available after unlocking one of them.
Any PP earned is added fully to both the Arena PP and Hunting PP. Arena PP is only used for upgrading the six Arena Nodes, and Hunting PP is used for the rest of the nodes.
Node unlocks and PP spent can be reset for 400 Diamonds (free as of patch v0.92) or using a code given out by game staff. Unlocking a node does not provide any benefit in itself; the node must be upgraded to do so, which can be accessed by clicking on the node.
Bonus Node Unlocks

| Level | Diamond Cost | Bonus Node Unlocks |
| --- | --- | --- |
| 1 | 500 | +1 |
| 2 | 1000 | +2 |
| 3 | 2500 | +3 |
| 4 | 4000 | +4 |
| 5 | 6000 | +5 |
Non-Arena Nodes
There are eight types of non-arena nodes (total 158), and they occur from 17-21 times each. They are upgraded using Hunting PP.
Arena Nodes
There is only one of each of these 6 nodes, located at the extremes of the map: northwest, north, northeast, southeast, south, and southwest. These nodes are unlocked by default, and they are upgraded using Arena PP.
Damage Reflection caps at 50% of each pet's damage.
Node Unlocks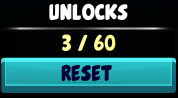 Everytime you unlock a Node you use one Node Unlock. You can buy 5 Node Unlocks for a total of 14000 Diamonds or you get 3 Node Unlocks each time one of your pets tiers up. As example you have 2 Snakes (Tier 1), you will have 6 Unlocks. If you have 2 Bats (Tier 2), you will have 12 Unlocks. The Formula for Node Unlocks is: (Pet Tier *3)*2 .. In case you should only have one pet it's: (Pet Tier *3)*1
Central Nodes
There are also eight central nodes. Unlocking a central node costs Valor and grants a percentage bonus to all nodes to which it is connected (via green lines). If the player doesn't have enough Valor, an alternative cost can be paid that charges an additional 50 Diamonds per missing Valor. All central nodes start at level 0, with no bonus. Central Nodes can be downgraded by 1 level for 25 Diamonds each.
Central Nodes

| Level | Bonus | Valor Cost | Diamond Cost |
| --- | --- | --- | --- |
| 1 | 5% | 22 | 1,100 |
| 2 | 10% | 38 | 1,900 |
| 3 | 15% | 58 | 2,900 |
| 4 | 20% | 82 | 4,100 |
| 5 | 25% | 160 | 8,000 |
| 6 | 30% | 214 | 10,700 |
| 7 | 35% | 276 | 13,800 |
| 8 | 40% | 346 | 17,300 |
| 9 | 45% | 424 | 21,200 |
| 10 | 50% | 710 | 35,500 |
Central Nodes

| Level | Bonus | Valor Cost | Diamond Cost |
| --- | --- | --- | --- |
| 11 | 55% | 846 | 42,300 |
| 12 | 60% | 994 | 49,700 |
| 13 | 65% | 1154 | 57,700 |
| 14 | 70% | 1326 | 66,250 |
| 15 | 75% | 1960 | 98,000 |
| 16 | 80% | 2218 | 110,900 |
| 17 | 85% | 2492 | 124,600 |
| 18 | 90% | 2782 | 139,100 |
| 19 | 95% | 3088 | 154,400 |
| 20 | 100% | 4210 | 210,500 |